Officially known by the rather lofty title of the "Free Hanseatic City of Bremen" ( Freie Hansestadt Bremen), Bremen is situated on Germany's lower Weser River. Not only is this vibrant port the capital city of the Land of Bremen, it's also one of the largest seaports and centers of seaborne trade in the country.
The Land of Bremen also includes the port of Bremerhaven, 60 kilometers north of the city of Bremen and the point where the River Weser flows into the North Sea. Both cities are popular places from which to embark on sightseeing boat trips and river cruises. Bremen has also long been an important cultural center, boasting numerous top attractions and plenty of fun things to do.
Key events in the city's cultural calendar include the Freimarkt, the country's largest funfair and one that has taken place here almost continuously since 1036. Also fun is catching a concert by the International Youth Symphony Orchestra of Bremen. Other memorable experiences for visitors and tourists include exploring the historic Old Town (Altstadt) on foot – it's a very pedestrian-friendly city – or strolling through Bremen's many fine parks and green spaces.
To help you find the best places to visit in this exciting corner of Germany, check out our list of the top attractions and fun things to do in Bremen.
See also: Where to Stay in Bremen
Note: Some businesses may be temporarily closed due to recent global health and safety issues.
1. Explore Bremen's Historic Marktplatz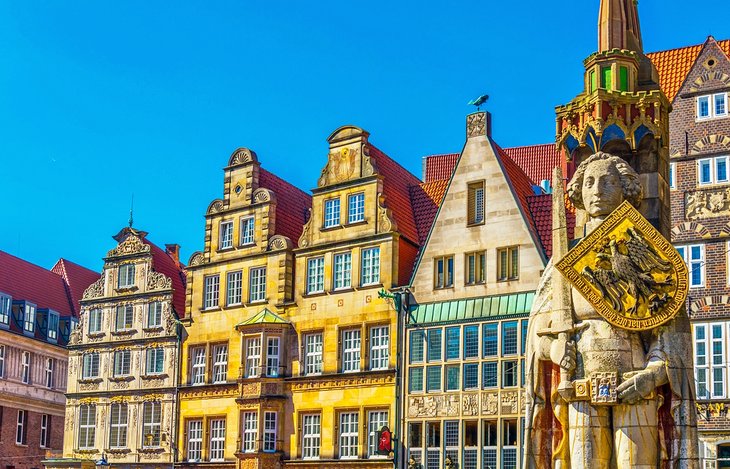 There's no better way to get to know a German town or city than making a beeline for the old marketplace, or Marktplatz. Located in the Old Town (Altstadt) and very much the beating heart of this historic city, the picturesque Marktplatz is home to many of Bremen's top attractions.
Here, you'll find the lovely old Town Hall (Bremer Rathaus), one of the most iconic such buildings in Germany for its mix of Gothic and Renaissance designs. Equally famous is the five-and-a-half-meter-tall statue of Germany's most famous knight, Roland. Erected in 1404, the statue – the oldest of numerous such monuments dotted around the country – remains a symbol of the city's freedom and independence from the church (the statue faces the church defiantly).
A great way to learn more about the fascinating points of interest in the Marktplatz is to sign up for an informative, one-hour guided walking tour of the marketplace and its cathedral. Along the way, you'll not only see each of the many attractions located in and around Marktplatz, you'll also hear fascinating stories relating to each of these important historic landmarks. A tour of Bremen Cathedral (St. Petri Dom Bremen) is also included.
Address: Am Markt 2, 28195 Bremen
2. Experience an Authentic German Christmas Market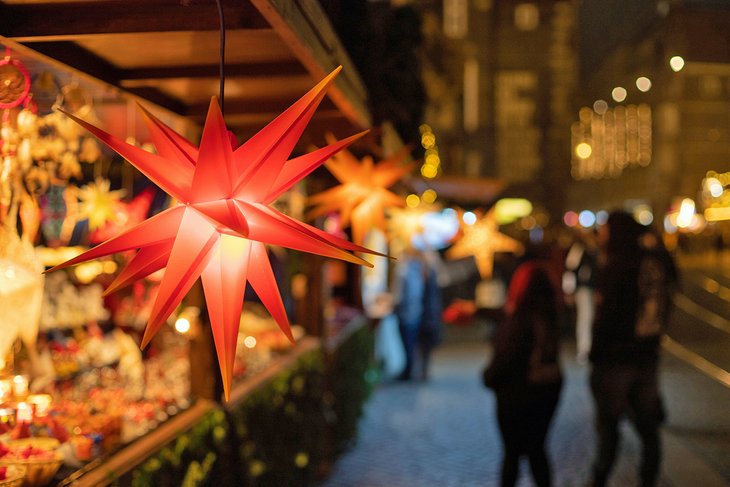 If you're planning on visiting Bremen in winter, the Marktplatz is also the site of the city's popular Christmas Market (Bremer Weihnachtsmarkt). This spectacular celebration of the season lasts for a whole month in the lead up to Christmas. It's a great excuse for a visit to Bremen, especially for couples seeking romantic things to do in winter, and is especially fun at night due to the many festive light displays.
Bremen's historic Marktplatz is also where the city's famous Freimarkt (or "Free Fair") is held. This ancient fair has taken place here for almost 1,000 years. Attracting over four million visitors a year, this two-week-long event culminates in a colorful parade that's well worth seeing.
As you explore this large public space, you'll likely stumble across Bremer Geschichtenhaus. This fun "living history" museum uses costumed characters to tell many fascinating stories from the city's history from the 17th to 20th centuries and is well worth the cost of admission.
3. Take a Tour of Bremen Town Hall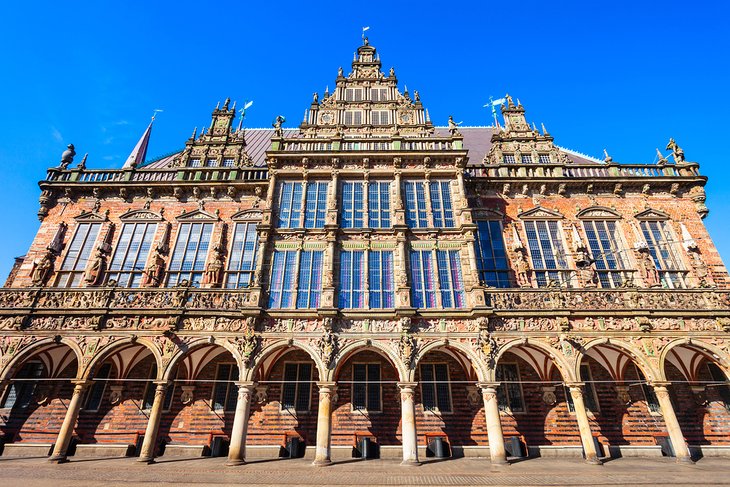 Bremen Town Hall (Bremer Rathaus, also sometimes referred to as City Hall) is a beautiful brick Gothic structure located in the city's Marktplatz. Built in 1410, it's famous for its sumptuous Renaissance facade added later in 1612.
Now designated a UNESCO World Heritage Site, the building boasts one of the most elegant banqueting and reception halls in Germany, Measuring an impressive 40 meters in length, 13 meters across, and eight meters high, its most notable feature is a large painting of the Judgment of Solomon dating from 1537. Also of note is a richly carved spiral staircase, just one of the many features that can be seen up close when you join in one of the regular (and extremely informative) guided tours.
Regular free concerts are held at the old Town Hall, too, including vocal soloists and organ recitals. You'll also notice, located under its northwest tower, an eye-catching yet unusual bronze sculpture of a rooster standing on a cat standing on a dog that's standing on a donkey. Known as the Bremen Town Musicians, these fascinating characters are straight out of the pages of a famous local folk tale.
Adding to the fun is a unique manhole cover in the road that doubles as a collection box. Drop in some change, and you'll be rewarded by a call from one of the Town Musicians themselves by way of a thank you.
Address: Am Markt 21, 28195, Bremen
4. Wander through Bremen's Medieval Schnoor Quarter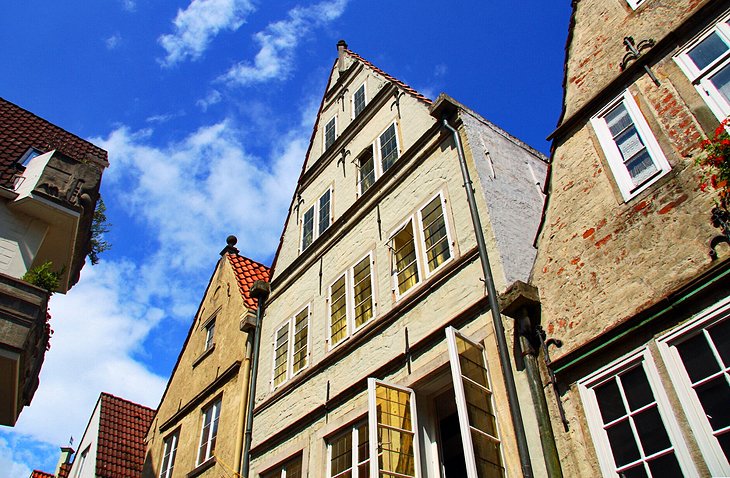 The charming medieval district of Schnoor, most commonly referred to as the "Schnoor Quarter," is named after the traditional rope-making trades that once flourished here. The oldest part of Bremen, it was once the poorest part of the city.
These days, though, Schnoor is now the haunt of artists and other creative types, and is an amazing area to explore for its many well-preserved 15th- to 18th-century homes.
In addition to the many cafés and craft shops that now dot the district, highlights include the Schifferhaus, or Shipper's House. Built in 1630, it's now a private museum. Also worth a visit is the lovely Landherrnamt, dating from 1856 and once home to the state government and notable for its well-preserved Neo-Romanesque facade. Also of note is St. John's Church, a 14th-century brick-built Gothic church.
A great way to ensure you get the most from your time is to join a fun Bremen Schnoor area tour. This easy and informative guided walking tour takes in the district's top attractions as you enjoy exploring the many narrow streets and homes found here.
Address: Hutfilterstraße 16-18, 28195, Bremen
5. See the Cathedral of St. Peter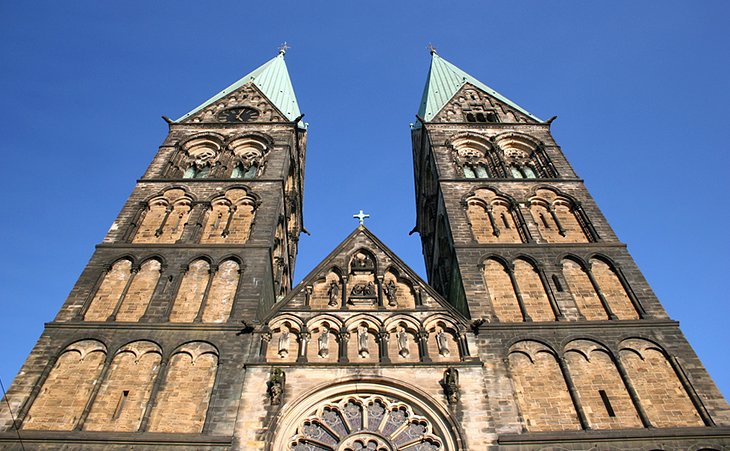 The Cathedral of St. Peter in Bremen – known locally as St. Petri Dom – dates from the 11th-century, with later additions being made in the 13th and 16th centuries. The exterior, with its twin 98-meter-tall towers, was restored in 1898, while its richly decorated Baroque pulpit was a gift from Queen Christina of Sweden in the 17th century.
A must visit is the fascinating Cathedral Museum (Dom-Museum), located in the Bleikeller, or Lead Cellar. Here, you'll have a chance to see eight well-preserved mummies – the remains of medieval archbishops – along with displays of other items related to their tombs. A nominal admission charge is required to visit the cathedral's tower, but it's well worth it for the views.
Address: Sandstraße 10-12, 28195 Bremen